Valencia
This Comunidad or Region has two Provinces, the Capital Valencia and Alicante which are also cities and both have major International airports. It's two Costas are La Costa del Azahar and the very well Known Costa Blanca, you can fly to Alicante from almost any airport in Britain all year round, there are also daily flights to the Capital from Coventry amongst other UK airports. Alicante is almost in the middle between Benidorm and Torrevieja, which are the most popular places in this region for Holidays and living for Brits.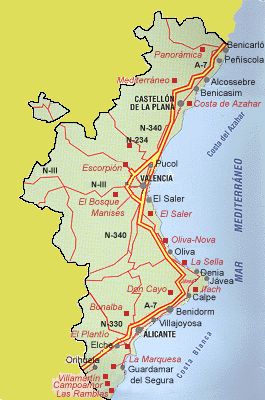 The all year round town of the ever growing Benidorm is one of my favourite places in Spain as it has everything, regardless of your age income or type of life you want. It is a bit miss-understood by many Brits as being the Spanish Blackpool, There is a part of it like that if you want that, but there is so much more if you get out and explore the old towns Tapas bars and shops, get on the buses or hire a car to the lovely Little beach just 2 miles away of La Cala de Finestrat Click here to see what I mean!
The City of Valencia has a large Port with trips to Ibiza, Mallorca and menorca by Ferry daily. But the place itself I Know little about as it has one of the highest crime rates in Spain and I left Britain myself to get away from that therefore I don't go there unless I have to! I'm sure it has many nice areas like all large Cities but it just Doesn't appeal to me for the crime rate.
Exit Valencia and return to Regions