Games
Check all our games out but the bull one is well funny! Play it in large screen mode, use the arrow keys on your keyboard to try and dodge the bulls! "JUGAR" in the bottom right corner = "PLAY" and "COMENZAR" = "START".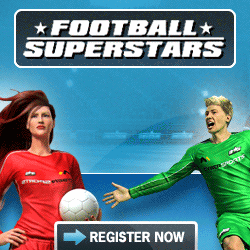 play online, even play and win money! Football superstars is the next biggest thing in virtual gaming, you are a professional soccer player with a soccer player lifestyle, the better the player you become the more money you earn and the better the lifestyle you have! give it a try it's great. If you want to try and win real life money then give the bingo a try, you even get free money to start you off!



Exit games and go to Homepage.